<!PHP Block to display review !>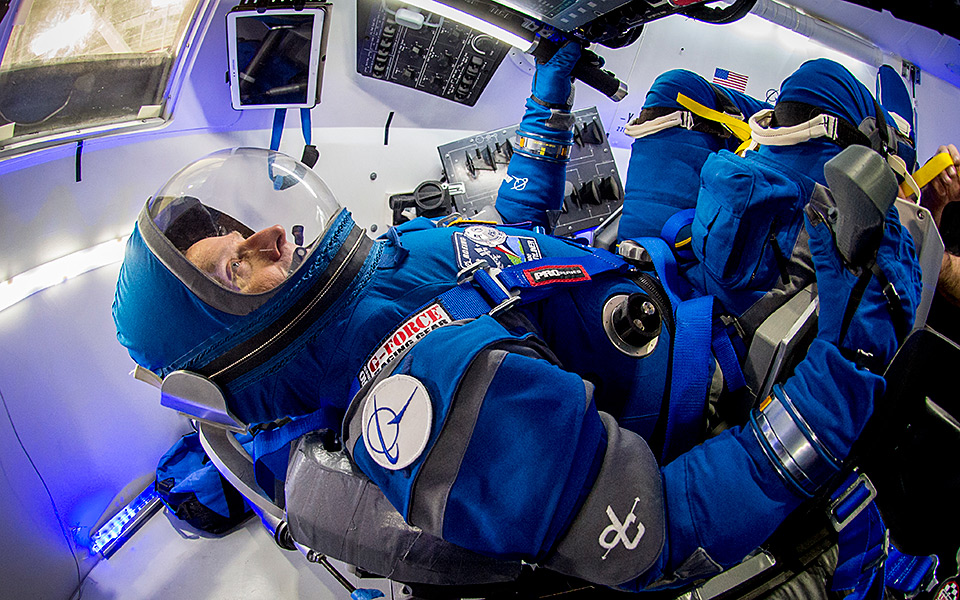 Boeing Blue Starliner Space Suit
Review by Ernest Lilley
ISBN/ITEM#: CST100SPACESUIT
Date: 26 January 2017

Links: Sapceui Rollout (Boeing) / SpaceSuit Rollout Video (Boeing) / Show Official Info /



Somewhere between the sleek pulp cover suits of the 1950s and the reality of spaceflight, space suits got big, bulky, and hard to get into. Boeing has just released the next generation in space suits, and while they're not rated for hard vacuum, they're not nearly as bulky or heavy as the official NASA versions, being intended for use getting people safely from the Boeing Starliner to a space station. Coolest feature? The helmet zips on and hangs behind you when you're not wearing it.

When astronauts climb into the Starliner for their trip to the ISS and beyond, they won't wear a full EVA suit like the ones NASA curretnly packs astronauts off in. Instead, they'll put on the "Boeing Blue" space suite designed for the Starliner, a lightweight, flexible suit that's easier to put on and take off whose mission isn't to boldly go into hard vacuum, but to get them safely to the station and back again.

It makes sense. The Starliner may offer a shirtsleeve environment, but astronauts may experience a variety of different pressures as they transit to the space station, and the possiblity of pressure loss in the cabin can't be ignored.

It may not be a full fledged EVA suit, but it's got some features that NASA suits can only envy, including a 40% weight reduction over current suits, and much greater flieibility.

In an interesting twist on space technology, the suits are definitly the beneficiaries of Earth bound consumer technology, with touchscreen-friendly gloves to let astronauts keep up with social media on their flight, or just interact with the capsule's tablets, and boots designed in cooperation with Reebok.

SpaceX hasn't shown us the suits they're planning on using in their Dragon capsule, so maybe there's hope yet for the suits we grew up with on pulp covers. After all, they've gotten pretty good at landing spaceships the way Heinlein intended...on a pillar of fire.
---
Loading

© 2002-2018TechRevu

advertising index / info
Our advertisers make TechRevu possible, and your consideration is appreciated.
<!- Our Pubs Ad Column -->

Our Other Pubs:
<!- End Our Publs Ad Column -->

<!- Google Adsense Skyscraper --> <!- End Google Adsense Skyscraper -->