<!PHP Block to display review !>
DERN@CES2017, Part 3 of 3: From Media & Entertainment to Power, Home, Sundries & A Dangdest Thing by Daniel P. Dern
Review by Daniel P. Dern
ISBN/ITEM#: DDCES2017#3
Date: 25 January 2017

Links: Dern@CES2017: Some Things I'll Be Looking For/ / DERN@CES2017 - Part 1 of 3: A Few Dozen Of The Hun / DERN@CES2017, Part 2 of 3: Storage, Desktop/Notebo /



As always when I go to the International CES (Consumer Electronics Show) held in Las Vegas in early January, I see lots of interesting stuff I saw, and 2017 was no different. Here's the third and final installment of brief looks at some of the interesting things I saw at CES 2017, including Media & Entertainment to Power, House & Home, Sundries And A Dangdest Thing Or Two.

First, an important reminder: A lot of these "products" are still in the pre-manufacture crowdfunding stage. Particular those in the Eureka Park area of the show floor. So some won't be available for a while... and some may end up never being available.


MEDIA AND ENTERTAINMENT

Zvox was showing two new members of their SoundBase sound bar family: the Accuvoice TV Speaker AV200 (MSRP: $249.99) and the AccuVoice AV205 (MSRP $349.99). Using hearing-aid-based technology, Zvox makes voices in TV audio easier to hear and understand. The AV205, which will be sold through audiologists and hearing aid dispensers, will "a hearing professional to "fine tune" the speaker's sound to match a specific customer's hearing profile."
Dern says: This, ahem, sounds like an affordable useful add-on product for TV/movie watchers. Particularly for video that's not well sound-engineered, or for watching shows with hard-to-understand (unfamiliar) accents and dialects.

POWER: Sun, Water, And More

SolPad solar panels are all-in-one, including battery and converter, providing up to 70 watts while weighing a modest 25 pounds. (MSRP $1,399-ish).

Dern says: At this price, these will find use cases like photographers (with a car) needing all-day and some-night power. On the other hand, I don't see these as scaling well for home back-up power other than a radio, a WiFi router, an LED light and maybe your fridge... but not, I suspect, your furnace.

OmniCharge showed their portable power banks -- battery-powered chargers -- with both AC and DC output: the ~1.5-pound Omni 20 holding 20400 mAh -- enough for 1.5 MacBook 12-inch charges -- and capable of 100W output, and the ~0.8-pound Omni 13, with 13600 mAh and 65W output. Both include USB ports. The Omni 20 includes Qualcomm Quick Charge 3.0, and also a universal barrel port which "can provide fully adjustable direct DC output for most laptops, ham radio systems and other small appliances...between 1V to 24V." Feature-laden, OmniCharge says their are 30% smaller than other available power banks.
OmniCharge 20 (MSRP $299), OmniCharge 13 (MSRP $199) Estimated available January and February 2017 respectively.
Dern says: Portable battery packs with AC output have been around for a few years, but they've been bulky. This looks like it packs a lot of tech and features into a small package -- for weight-and-size-frugal mobile users, these could be well worth the price.

myFC was showing their JAQ pockable fuel cell, acting as a charger for consumer/mobile devices that charge via USB. Simply insert a fresh PowerCard (which holds a mix of water and salt) into the JAQ. myFC's PowerTrekk product include a battery to capture any energy left after the charged device is full. The JAQ doesn't, but it only provides 900 mAh, basically topping off a phone, etc. whose battery has started to run down. JAQ MSRP $69-ish, PowerCards will be $1-2 each. Not yet available in the US. According to the rep I talked with, these are intended/good for "millenials who don't want to deal with charging." (Meaning paying attention to battery level and taking advantage of being near AC/USB power outlets.)
Dern says: There's no shortage of small 3000-5000 mAh rechargeable pocket chargers available, for when there isn't a USB or AC outlet around... and fast-charge and wireless charging are changing the dynamics here. Once again, I think this is a mis-read of the mobile market viability... but I could be wrong.

HOUSE AND HOME

Anova is adding to its sous-vide Precision Cooker line with a $99 model, available summer 2017, making this slow low-temp cooking technique affordably available.
Dern says: This is on my short-list to try sometime in the next six months.
FoldiMate Family showed their "robotic machine that will...take the dry items, hang each one on the clip and within a few minutes, your laundry is neatly folded, treated and even de-wrinkled." Target availability, end of 2018, target price (for the home version) $750-$850. Commercial and for-businesses versions planned.
Dern says: I don't recall any of Dan B. Davis' homehelper robots (in Robert Heinlein's science fiction novel, THE DOOR INTO SUMMER) doing this task. I wonder where this falls in terms of Asimov's Laws of Robotics? Here's a suggestion: Do a mash-up of this, Lyfte and a Segway, for on-demand laundry folding?

SHORT'N'QUICK, AND "DANGDEST THING"

REM-Fit's Zeeq Smart Pillow internal speakers, does snore detection, but $249 seems high. File under "Dangdest." Assuming it makes it out of crowdfunding.

Acronis True Image 2017 is adding intriguing new features including Active Protection (against ransomware) and blockchain-based Acronis Notary for proving authenticity and unchangedness. Dern says: On my short-list to try, since my current backup does data, but not my software, so I should also be doing system images...

Revive Stick and Retrieve uses NFC for "connected labels," allowing record albums, CDs, medicines, and who knows what else to link to online info. Dern says: Might be useful

OIO Amp has an impressive-sounding portable speaker case for iPad Pro 9.7, iPad Air 2, and iPad Air. MSRP $249. Looks and sounds nice. Dern says: Not for everyone, but for some presenters and other uses, could be just the thing.


Yolk says that their Solar Paper is the "world's thinnest and lightest solar charger." These 2.5W panels definitely are thin and light, not much bigger than an iPhone. $135 for 2-panel charger, which, says Yolk, "In bright sunlight, the 5 watt charger can fully charge an iPhone 6 in about 2.5 hours, which is similar to a wall charger" Additional panels $50 each.


Dern says: If it works, it's certainly jacket-pocket portable enough. (But also pack a small battery-based charger for when it's dark out.)

MiniBrew's home tabletop automatic brewing machine will let you brew up a batch of beer in 4 hours (followed by a week to several months of fermenting in the keg). Expected availability spring 2017 (MSRP $800)

TechNovator XE is a phone case and charge base combo that lets you charge your phone wireless up to 17 feet from the charge base. Currently, cases being made only for iPhone 6(s) and 6(s) Plus. Cost for charge base and case sound like in the $200-$250 range. If it makes it to production. And works as claimed.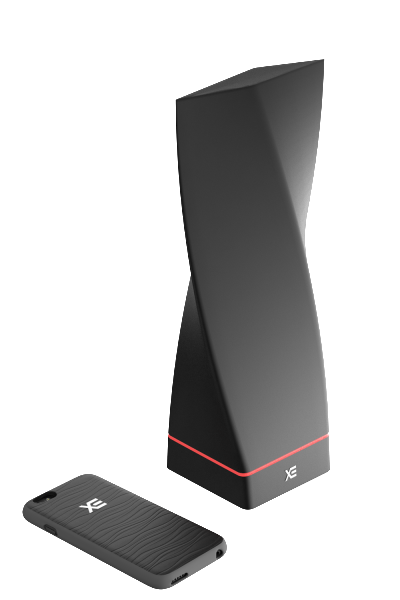 Dern says: Another day, another purpose-specific phone case -- how about making the receiver as an add-on?
Saving the arguable "Dangdest" for lastest: Spartan was, ahem, showing its men's boxer briefs, which, they claim "block over 99.9% of cellphone and WiFi radiation" (400mhz-5Ghz), thanks to silver fibers woven into the cotton. Available now (MSRP $45/pair). Briefs to follow.
Dern says: Wonder what happens at airport TSA scans? Or, hmmm, if you walk in the path of wireless chargers, like the TechnoVator XE? Hot, hot, hot!

And that's (some of) what I saw at CES 2017.
- DPD
---
Loading

© 2002-2018TechRevu

advertising index / info
Our advertisers make TechRevu possible, and your consideration is appreciated.
<!- Our Pubs Ad Column -->

Our Other Pubs:
<!- End Our Publs Ad Column -->

<!- Google Adsense Skyscraper --> <!- End Google Adsense Skyscraper -->