<!PHP Block to display review !>
DERN@CES2017, Part 2 of 3: Storage, Desktop/Notebook, Headphones, Cables, Even a UMPC by Daniel P. Dern
Review by Daniel P. Dern
ISBN/ITEM#: DDCES2017#2
Date: 24 January 2017

Links: CES Tech / Dern@CES2017: Some Things I'll Be Looking For/ / DERN@CES2017 - Part 1 of 3: A Few Dozen Of The Hun / DERN@CES2017, Part 3 of 3: Media & Entertainment t /



As always when I go to the International CES (Consumer Electronics Show) held in Las Vegas in early January, I see lots of interesting stuff I saw, and 2017 was no different. Here's the second installment (of 3) of brief looks at some of the interesting things I saw at CES 2017, including storage, desktop/notebook, headphones, cables, and even a UMPC.

As always when I go to the International CES (Consumer Electronics Show) held in Las Vegas in early January, I see lots of interesting stuff I saw, and 2017 was no different.

Here's the second installment of brief looks at some of the interesting things I saw at CES 2017, including storage, desktop/notebook, headphones, cables, and even a UMPC. (And here's Part 1 and Part 3.)

First, an important reminder: A lot of these "products" are still in the pre-manufacture crowdfunding stage. Particular those in the Eureka Park area of the show floor. So some won't be available for a while... and some may end up never being available.
BIG CHEAP STORAGE: Flash, Pocket, Desktop
Back in 2013, Kingston Technologies announced the world's first 1TB flash drive, in their DataTraveler HyperX Predator line . It wasn't cheap, to say the least. (The price went down, but currently the 1TB is no longer available new, e.g. NewEgg doesn't list it, and Amazon lists some around $2,700.)

This year, Kingston announced its new 2TB DataTraveler Ultimate GT flash drive. That's big enough, for example, to hold " 70 hours of 4K video." The drive is about a square inch by 3 inches, available later this year. No specific price yet, but guestimates are in the 40 to 45 cents per gigabyte -- so $900 or less. Most of us are likely to go for more affordable options (see below), but there are plenty of cases where the investment will make off, like IT admins who want to tote or take large system images, and photographers and videographers grabbing hours of 4K video.

Dern says: If you need this and can afford it, you'll get it. Perhaps prices will drop later in 2017.

Other interesting -- and less pricey! -- storage products I saw include:

Seagate was showing its LaCie d2 Thunderbolt 3 desktop external hard drive -- 6TB, 8TB and 10TB (MSRP for 6TB, $429) -- and its new LaCie Rugged Thunderbolt™ USB-C portable drive -- 2TB, 4TB, 5TB hard drives and 500GB and 1TB SSD. MSRP for the portable drives starts at $249.99. Available this quarter.
Dern says: So don't say you don't have enough local or pocket storage for expansion or backup. There's probably better desktop pricing, if you don't need that many TB in a single drive, though.

On the comparatively smaller end, capacity and size wise, SanDisk was showing its Ultra A1 256GB microSD card SanDisk (MSRP $199). Using Android 6.0 ("Marshmellow")'s adoptable storage feature, you can set your (Android) device to treat this like internal storage, meaning it can hold apps as well as data. (The rep I spoke with said this makes it easier to migrate from one device to another, although the Android.com "adoptable" link I just cited says that won't work.)

Dern says: Again, useful for the right people, affordable enough if you need it.

SanDisk also showed the SanDisk Extreme Pro USB 3.1 256GB flash drive (MSRP $179), which, the rep said, offers near-SSD performance, transferring a 4GB file in 15 seconds, 1,000 images in 25 seconds.

Dern says: If you need the speed, sounds like a good deal.
DESKTOP COMPUTING
Desktop computing, from the computers proper (granted, often done using docked notebooks) to displays, printers and other peripherals, isn't dead yet. Color printing trends include larger-reservoir systems to reduce consumables (ink) costs. Two that I saw:

Canon's new (announced December 27, 2016) member of its PIXMA G-series MegaTank printers," the Canon PIXMA G4200 All-In-One (print, copy, scan, fax), which, according to Canon, can do up to 6,000 black pages and 7,000 color pages with the included ink bottles, which, says Canon, "would take 30 conventional ink cartridge sets." (MSRP $399.00; refills are $12 for each of the three colors, $15 for the black ink.) Other G-series MegaTank models include the less expensive PIXMA 1200 single-function printer and G2200 All-in-One. (Epson and HP also offer "humongo-ink-tank" models, FYI.)



Dern says: If you do enough color (photo or regular), this is likely to save on TCoO (Total Cost of Ownership) and definitely reduce dealing with buying refills. And the output looks great.

AirBar Adds Display Touch Also To MacBooks

Neonode's AirBar is a slim ruler-like stick that "magnetically attaches to the bottom of a laptop display" and adds touch, by emitting "an invisible light field over a laptop screen that senses touch from fingers, gloves and even a paintbrush."

Neonode already offers AirBar compatible with PC laptops size 15.6" running Windows 8.1/10. Announced: AirBar sensor for MacBook Air 13.3", available March 2017, with devices to fit more MacBooks and PC laptops to come.
AirBar currently comes in three sizes, for 13.3", 14" and 15.6" screens. (MSRP $69-$99)

Dern says: This looks like a useful addition for non-touch notebooks, as long as you remember to bring it... and don't try closing the notebook before removing the AirBar.

HP new Elitebook X360 business convertible notebook , aside from being low-weight (sub-three-pounds), includes a toggleable viewing-angle for the display, so your airplane seatmate can't eaveslook on what you're working on. Available end of January 2017. (No price set yet. I'll guess 'starting at at least $800, probably at least $1,000)

Dern says: Useful to know about if you travel a lot and are ready to buy a new business notebook.

Speaking of HP, over at the USB Implementers Forum table at Pepcom, I saw HP's Lap Dock, which was introduced in February 2016, which has a 12.5" FHD screen, full-sized keyboard, clickpad, and ports. HP Lap Dock looks like a notebook, except it has no CPU or storage. (MSRP $599.00). The Lap Dock is intended to be used with HP's business-oriented Elite x3 smartphone (MSRP starting at $684.00), using Windows Continuum, so you get a notebook UI/UX when using the Lap Dock.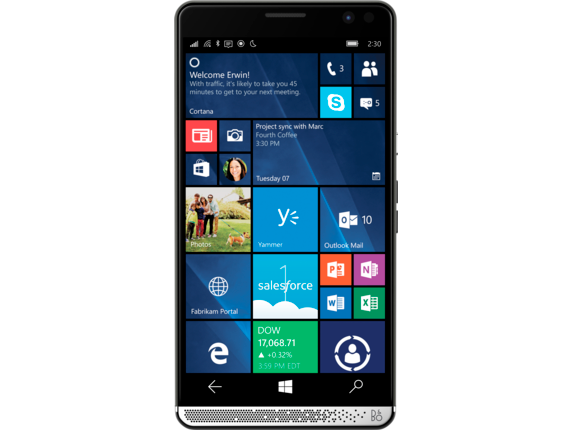 Dern says: I saw lower-end, less useful smartphone add-ons like this 5+ years ago. This could be useful, avoiding phone-or-notebook "where's my file" and app interopability concerns, for the right users... assuming you're willing to use Windows on your phone, and use HP's phone. One question: Does this work with other (non-HP, non-Windows) phones and tablets? (Maybe that's two questions.)

Photo/videographers -- Don't want to tote a notebook or wait till you get back to your room or office? Here's an interesting possibility: the pocket-size Gnarbox, which lets you backup, organize, edit & share HD videos and photos from your iOS or Android device, no laptop needed. Available (MSRP $299).
Dern says: Looks useful for mobile photo/video pros. I don't need one yet, but it's good to know about. And I'm sure many are ready to buy one as soon as they learn about it.

HEADSETS MODERATE TO MEDIUM PRICEY
You can spend anywhere from twenty bucks to over a thousand on a headset.
Tritton Audio was showing two new headsets for gamers and others: the ARK 300 wireless 7.1, with uncompressed audio via HDMI (MSRP $249), and the more affordable stereo wired ARK 100 headset (MSRP $79.99).
Rugged USB, Lightning Cables
ToughTested was showing its rugged USB and Lightning cables that include an in-line circuit breaker. Available (MSRP $24.99 (Android), $29.99 (Lightning))

Dern ponders: Is there evidence that we need these -- stronger cables, and the breakers -- or is it just paranoia? Yes, $25-$30/cable is affordable -- if you only are buying two or three cables, but that's pricey enough to want clearer risk data before springing for hundreds of dollars' worth.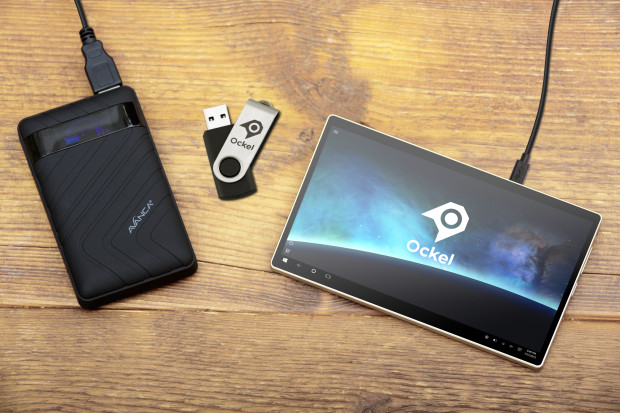 Ockel Sirius: Ultra-Mobile PCs live!
Ockel shows that the UMPC (Ultra-Mobile PC) isn't dead yet, with its Sirius line of pocketable computers (Windows 10, Intel Atom x7, up to 8GB RAM, up to 128GB storage). Sirius A includes a 6" touchscreen, the Sirius B doesn't. Sirius A pricing starts around $550; Sirius B starts at $250 (but check StackSocial.com for bargains).
Dern says: Again, sounds like this will be useful for some -- perhaps the A for people who want power Windows in a large-phone size, and the B for people commuting between K/V/M peripherals?
NEXT: Part 3 of 3, Media & Entertainment to Power, House & Home, Sundries And A Dangdest Thing Or Two.
---
Loading

© 2002-2018TechRevu

advertising index / info
Our advertisers make TechRevu possible, and your consideration is appreciated.
<!- Our Pubs Ad Column -->

Our Other Pubs:
<!- End Our Publs Ad Column -->

<!- Google Adsense Skyscraper --> <!- End Google Adsense Skyscraper -->