<!PHP Block to display review !>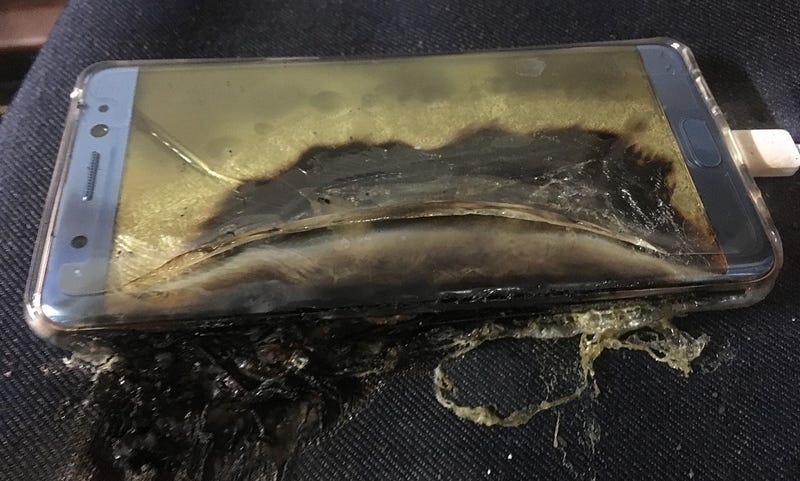 The FAA Is Considering a Ban on Samsung's Exploding Smartphones by Matt Novak
Review by Charles Mohapel
Gizmodo, Android Community.com, Ubergizmo.com News ISBN/ITEM#: CM160908GALAXY
Date: 08 September 2016

Links: Gizmodo.com Article #1 / Gizmodo.com Article #2 / Android Community.com Article / Ubergizmo.com Article /



While Samsung's Android smartphones don't have the cachet of Apple's iPhones, you know that if a Samsung product proves to be defective or having unexplained incidents, Samsung won't deny that there are problems or try to blame the customers for their own misfortunes. With at least 35 of their brand new Galaxy Note 7 smartphones having defective batteries that have suffered major accidents like spontaneously bursting into flames and destroying the phone, or evein in one case causing nearly $1,400 worth of damage to a hotel room in Australia, Samsung recalled roughly 2.5 million smartphones worldwide. The company promised to "voluntarily replace their current device with a new one over the coming weeks." That's what we call Good Customer Service.

Photo: Samsung Galaxy Note 7 after sustaining fire damage from its battery (Twitter)

Last week, Samsung recalled roughly 2.5 million smartphones after it was discovered that at least 35 of the devices had spontaneously burst into flames. Make that 35 and counting. But don't worry, if you'd like to bring your Galaxy Note 7 onto a flight, the FAA still hasn't decided whether it should ban the devices on planes. 'The agency is thinking about it, however.

Gizmodo reached out to the FAA, TSA, and major US airlines this holiday weekend about whether they will restrict the devices from being carried onto flights. Tonight, the FAA finally told us that it's still working on exploring the issue but that no final decision has been made. Any official recall for a battery-powered device like this could mean that the devices wouldn't be allowed on future flights.
---
Loading

© 2002-2018TechRevu

advertising index / info
Our advertisers make TechRevu possible, and your consideration is appreciated.
<!- Our Pubs Ad Column -->

Our Other Pubs:
<!- End Our Publs Ad Column -->

<!- Google Adsense Skyscraper --> <!- End Google Adsense Skyscraper -->