<!PHP Block to display review !>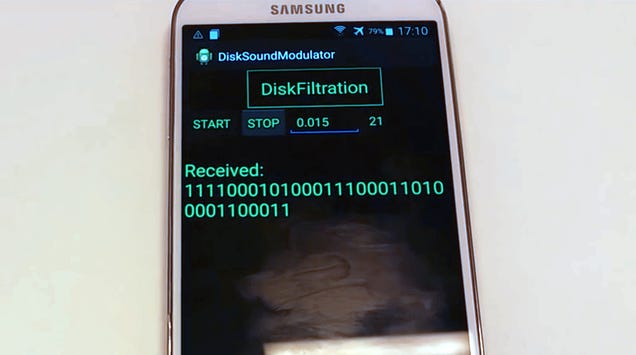 Hackers Can Now Steal Data By Listening To The Sound Of A Computer's Hard Drive by Andrew Liszewski
Review by Charles Mohapel
Gizmodo.com, Cornell University Library, Ars Technica.com News ISBN/ITEM#: CM160821HACKERS
Date: 21 August 2016

Links: Gizmodo.com Article / Cornell University Library Article / Ars Technica.com Article /



If you thought that isolating a computer from the Internet and air-gapping it would keep it secure from being hacked, that is no longer the case. But for it to be vulnerable to attack, the attack has to be performed by an insider who places specific malware onto the target system, the hard drived can't be an SSD (Solid State Drive), and nearby air-gapped device like a smartphone a maximum of 6 feet away.

Do you think your data is safe because your computer isn't connected to the Internet or a network? Wrong. As security researchers recently demonstrated, the sounds of your computer's hard drive can be used to transmit data from an air-gapped and seemingly well-protected machine.

The DiskFiltration hack, demonstrated in this video by security researcher Mordechai Guri of Israel's Ben-Gurion University, works by controlling the actuator in a hard drive which moves back and forth across the drive's platters to read and write data. Think of it as the arm on a record player, but constantly moving back and forth at tremendous speeds.

As the actuator jumps around, it produces subtle sounds. You know that cacophony of sounds when you first boot up a desktop computer? Part of that noise is coming from the machine's hard drive, and with the correct malware installed, those sounds can actually leak sensitive data to a nearby air-gapped device, like a smartphone, that knows what to listen for.
---
Loading

© 2002-2018TechRevu

advertising index / info
Our advertisers make TechRevu possible, and your consideration is appreciated.
<!- Our Pubs Ad Column -->

Our Other Pubs:
<!- End Our Publs Ad Column -->

<!- Google Adsense Skyscraper --> <!- End Google Adsense Skyscraper -->