<!PHP Block to display review !>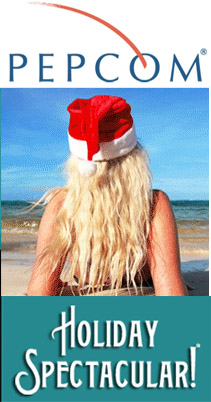 Pepcom NYC Holiday Spectacular! by Daniel Dern
Review by Daniel P. Dern
Pepcom Event ISBN/ITEM#: PEPCOM091411
Date: 15 September 2011

Links: Pepcom Home Page / Complete Exhibitor List / Show Official Info /

Santa may be relaxing on the beach with his elves (?) before heading north for the gift giving season, but Daniel Dern was hard at work in NYC this week attending Pepcom's annual Holiday Experience, a pre-winter media festival where journalists get to kick the tires on products to determine which will be under the tree, and which will be left out in the cold.

Pepcom's September 14, 2011 "Holiday Spectular" multi-vendor press event at Manhatten's Metropolitan Pavilion may have had only a few toys for the pre-teen audience -- but no shortage of nifty, useful tech products for the consumer, professional, home, and office.

On the "home front," Energizer and others were showing non-incandescent LED and CFL lighting. Phillips' offerings include a flossless "dental flosser", using a mix of air and water for what they claim is comparable in results.

Lenovo one of their just-announced "ultrabook" IdeaPads there -- the 300S, an elegant, thin machine, along with a mockup of the larger model that also includes an optical-disk slot.

Epson had two interesting color inkjet MFPs -- a $499 workgroup workhorse, and an amazingly priced $99 iPrint-enabled WiFI model.

Seagate, D-Link, and others brought tempting looking desk and portable storage, including 2-bay units, and Seagate's 4TB disk!

Get the flash player here: http://www.adobe.com/flashplayer

Nikon, Canon, and others brought digital cameras, ranging from large, long-lensed DSLRs to new pocket or near-pocket powerhouses.

Autos got some space, too -- one GPS now can display a backup camera view (you have to get and mount the camera), and OnStar has begun supporting additional carmakers, with an aftermarket circuits in the rear-view-mirror product.

Plus, of course, lots of keyboards and other accessories for tablets and smartphones, an intriguing mini-boom Bluetooth headset from Jabra, and more.

Toys for pre-adults? Radio Shack had teeny tiny racers and tracks. Lego had a Windows/USB online game. But most of the stuff was for the 12-and-up crowd (which includes me).
---
Loading

© 2002-2018TechRevu

advertising index / info
Our advertisers make TechRevu possible, and your consideration is appreciated.
<!- Our Pubs Ad Column -->

Our Other Pubs:
<!- End Our Publs Ad Column -->

<!- Google Adsense Skyscraper --> <!- End Google Adsense Skyscraper -->