<!PHP Block to display review !>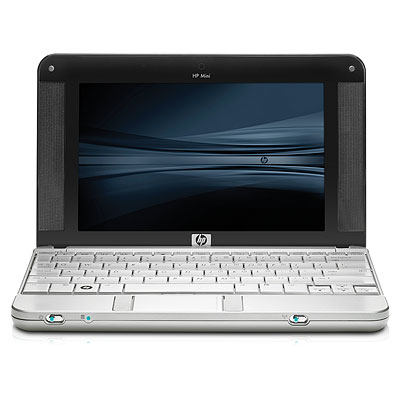 HP 2133 Mini-Note PC
Review by Daniel P. Dern
HP Personal Computers ISBN/ITEM#: B00170IAUE
Date: 08 May 2008 List Price $554.00 Amazon US / Amazon UK

Links: HP 2133 Overview / Show Official Info /

Unveiled in April 2008, HP's new 2133 Mini-Note PC "ultraportable" notebook computer represents the company's latest effort to provide enough computer power to get many common tasks, e.g. Web stuff and email (which many people do as a Web task, anyway), done in a small -- three pounds, give or take a few ounces depending on which battery you use and what's affordable -- base prices of $499 to $749 -- package.

The 2133 -- and others in this screen-size-power-and-price class, notably the Asus Eee and Everex CloudBook -- is not intended as a primary machine for most business users. HP's primary initial markets for the 2133 are education -- something light but robust for even young students to schlep (carry) around, and as an affordable "secondary" machine for executives and other mobile users.

I've been using an HP 2133 Mini-Note for the past several weeks (I did most of the writing and editing of this review on it, for example). I've used the 2133 around the house, on my lap, on the dining room table, at the public library, and to catch up on an episode of the TV show "Scrubs" which I'd failed to tape.

I've also used the 2133 as my primary desktop, plugged into my 22" LCD and regular keyboard and pointing device. I've done Web surfing, word processing with Microsoft Office (and with TextPad, my mainstay text processor), read email, and used the 2133 for Internet radio and some YouTubing. And I've brought it to some meetings. The only real-world test I didn't do is bring it with me to a trade show or on a personal trip.

While the 2133 is not fast or powerful by today's standards, the 2133 served surprisingly well as an all-day machine in the office. However, it's got limits -- some inherent, some that I believe could be changed -- as an out-of-office machine.

Three Pounds Of Portable Becomes Affordable, But Less Powerful

If you watch the sales, you can get a Windows notebook for $500. But it will weigh five or six pounds.

Three-pound Windows machines have been available. But they haven't been cheap. For example, Toshiba's Portege R500 puts a Windows XP or Vista machine, with 12.1-inch screen and built-in optical drive, into one and three-quarter pounds. But it costs a little over two grand. Lenovo's X61 ThinkPad is a little heavier but not as heavy as the R500, with a 12.1" XGA screen in a slim three pounds, and starts at around only a thousand dollars. Panasonic's Y7 ToughBook includes an optical drive and 12.1" screen in a thicker but still three-pound chassis ... but starts at just over $2,000.

All of these are pricey for a junior-high or younger student, or for someone looking for an affordable lightweight way to check email and the Web while traveling.

Within the past year, Asus surprised and confounded the computer industry with its Eee, a two-pound very portable computer starting at $299 -- running Linux instead of Windows, using flash memory instead of a hard drive, and with a 7" screen. Despite the lack of Windows, Asus has sold large numbers of Eees. Everex has joined in with its Cloudbook, same form factor although some different features. Asus and Everex now also offer Windows XP as an OS choice (ditto more RAM or a hard drive), and the new Eee 900 will have a 9" screen. All costing more than $299, but still in the $399 to (I'm guessing) up to $600 range.

HP's new 2133 Mini-Note is somewhere between the Asus Eee and the Lenovo ThinkPad X series in price, and about the same thickness as the Panasonic Toughbook. The 2133 weighs around three pounds -- with the standard three-cell battery, 2.63 pounds; with the six-cell battery, 3 pounds 3 ounces. (And the AC adapter and cabling is 13 ounces.)

There are four pre-configured 2133 models. The price starts at $499, with 512MB RAM, 2GB flash memory, running Linux. For $749, you get 2GB RAM, a 120GB hard drive, and Vista (with the "XP Downgrade" option). All include 802.11b/g (the top three also have 802.11a) and gigabit Ethernet.

The CPU is VIA; there are three speed steps across the four models.

Ports include a VGA video slot, two USB 2.0, and audio, plus an ExpressCard/54 and a Secure Digital slot.

I've been using a pre-production review unit for the past several weeks, and can report on some of what I consider are pros and cons. (The model they sent me is running Vista Home on the mid-speed CPU and only 1GB RAM -- not a fair test of the hardware, in my opinion, but that was all they had available.)

Things I like about the HP 2133 Mini-Note PC:

While the 2133 is thicker and bulkier than the ThinkPad X61 or Asus Eee, this adds to a feeling of durability. I like the ThinkPad (see my TechRevu review, but I worried about it being bounced and bonked when I carried it around. The 2133 case is anodized aluminum; like the Panasonic Toughbook, I feel I can pick this up by a corner and not worry about hurting the circuitry innards. The display hinges are thick and feel equally strong. And there's no latch for the display top -- one less thing to break.

The 8.9" WXGA (widescreen) display is quite good -- crisp, good colors; YouTube and other videos look quite good. The default 1280x768 high-res setting turned out to be a little small for my aging eyes, especially when using the machine on my lap; cranking it down to 800x480 is much better (and easier than hand-tweaking font sizes for each app). Even the speakers are surprisingly good. Of course, since there's no optical drive, you can't watch DVDs unless you get an outboard DVD drive or copy them over to internal or USB storage.

The keyboard is quite good -- and HP says the way it's done the keys makes it near-impossible to type so much you wear the letters, numbers and such off.

I like the option to chose the OS. I'd like to try Linux (I've been unable so far to get Ubuntu running on this); the big question there is whether Linux will support whatever wireless authentication you might need. While OS environment shouldn't matter for Web, email, and office apps (if OpenOffice meets your needs), if you're normally running Windows, this lets the 2133 substitute as a desktop, work with your peripherals and doodads, etc.

The Sleep Mode power settings -- when the machine enters sleep mode -- are surprisingly good, consuming only one percent or so of battery power hour, and it 'wakes up' pretty fast. You can set the 2133 to go into Sleep Mode automatically when you close the lid. This means you can shut it, tote it around, and be ready to use it again without having to wait for several minutes (for Windows) to boot up again. But you need to make sure it's really 'gone to sleep' or you'll run the battery down, of course.

Even with the hard drive spinning, the 2133 is pretty quiet -- quiet enough.

Things I dislike about the HP 2133 Mini-Note PC:

The 2133 Mini-Note isn't perfect.

The screen isn't good in sunlight, it's hard-to-impossible to see things, and reflects like a quarter-mirror. The other big killer is battery life -- 2 hours with the 3-cell, around 4 with the six. That's not enough for a machine you'd use like this; it needs to be all day. And while having an AC adapter that can recharge the battery up to 90% in 90 minutes is good, I'd consider doubling the recharge time if it meant halving the adapter size.

The display doesn't open up enough, especially when I've got the machine on my lap. I'm not asking for it to lay flat, but another ten or fifteen degrees would make a big difference.

Opinions And Recommendations

I'd like to see how the 2133's $499 model performs, running Linux on one or two gigs of RAM, and also how one with Windows XP Pro and 2GB would run; in particular, how fast these configurations boot up, and how fast they can switch tasks. I'd like to see the battery life somehow extended into the 6-hour range, and the AC adapter smallified by half to two-thirds.

For students and others spending their own money, crossing the $500 mark, while still way shy of the $1000-$2000 range of current ultralights, has the price becoming more like serious money... for the high-end model, by the time you're done, you're probably over $800.

The HP 2133 Mini-Note bears serious consideration, and it may be the right solution for your current needs, especially as I can't think of anything else at present to get instead. The new Asus 900, or whatever Dell is likely to announce soon, might be acceptable. Or we still may be three to four technology improvements away from a good all-day-on-a-battery-charge ultraportable.
---